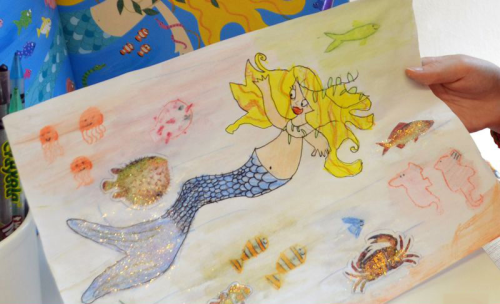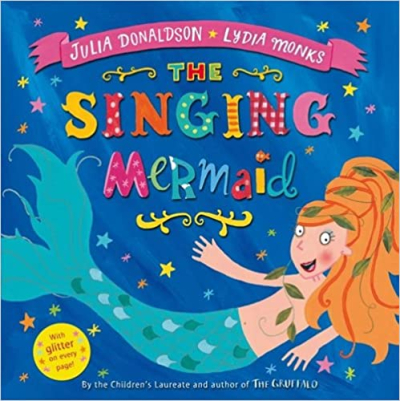 Publisher: Macmillan Children's Books  ISBN: 978-1447210856
We all know that mermaids are traditionally beautiful and have wonderful singing voices. However, when Julia Donaldson's Singing Mermaid is imprisoned in a fish tank by the wicked circus owner Sam Sly, she must prove herself capable of so much more, if she is to return to her beloved ocean! 
Lydia Monks has illustrated the story with bright and bold prints on glitter-filled pages :) It's a very tactile book! Here on The Guardian's Children's Books site, readers can watch how Lydia draws her perfect sea lady in a step-by-step tutorial. 
Inspired, we decided to have a go and created our own picture in Lydia's style. Below you can see the process:
Lydia uses a combination of illustration and real life photos, so we searched online with our little artist for some digital images to collage onto her creation. If you fancy using the images yourself, this free pdf has different sizes of the chosen clipart, with some dashed outlines for cutting. (all public domain) To create an underwater feel, she coloured the background with watercolour pencils, then applied a simple wash of plain water. Doesn't it look great? :)