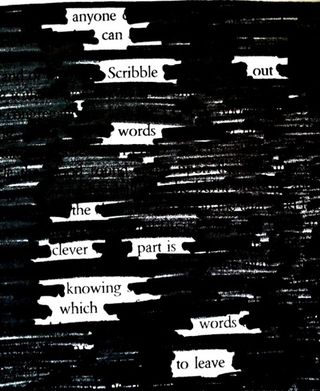 Publisher: Harper ISBN: 978-0061732973
Austin Kleon is an inspiring contemporary poet. He uses newspaper articles from the New York Times as unique canvases for creating his verse. The first thing I wanted to do, after trying it out myself, was to see if the older children I teach would find this technique successful and worth exploring.
We began by visiting the official website Newspaperblackout.com, where the children could read examples by Austin and view poems shared by fans using his method. As we watched a short interview with the poet, I could see that the boys in particular were itching to give it a try. "This is cool, have we got newspapers?"
They were immediately hooked. 
I think the most daunting thing for a child who wants to write creatively is a blank page. So white, so empty, so demanding. As a teacher, finding ways to make the planning process less of a struggle is wonderful and Kleon's technique scaffolds.
Using the newspaper, children with a limited vocabulary are exposed to words, in context, that they can use directly in their poem. I used a type of modelled writing to show the children how I used the method myself, carefully talking through the entire process. Then the children worked in pairs, or alone if they preferred, to create their own blackout poems.
We also did this a few weeks before the children were doing a unit on writing newspaper recounts, so this was a great opportunity to talk about headlines, sub-headings and columns etc. My socks were blown off when I read the results. Some children even used this as an opportunity to incorporate simile and metaphor - techniques we'd previously explored!!!
You'll need to provide a stack of newspaper articles- careful with content ;), black sharpie pens or permanent markers and scissors.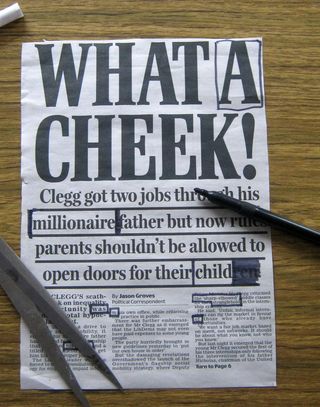 In the process of modelling....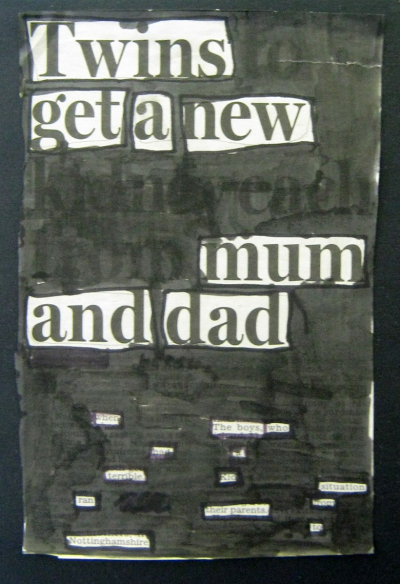 and one child's blackout poem:
"Twins
get a new
             mum
and dad
when
    The boys, who
had a 
terrible  kid
                    situation
ran   from
                their parents
                                to
Nottinghamshire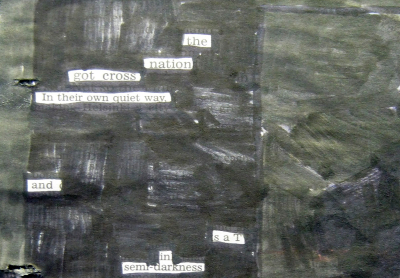 Here you can see how one child has used the end 's' sound, the word a, and the next capital letter 'T' to create "sat" - this one poem is so intense. 
I just wish I'd taken more photographs of these... make sure you do!! I'm sure Austin would love to have more contributions to his site!