If you haven't already read
Julia Donaldson
's Sharing a Shell
 with your family this summer, you must get hold of a copy!
This seaside rhyming story about three rock pool neighbours is perfect for reading aloud and has subtle messages about caring for others. We just love the little bristle worm character who tries to keep the peace :)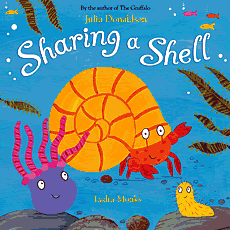 The illustrations are amazing (with lovely glittery "feely" bits)  and very inspiring for beach themed crafting! It's a great way of introducing children to the idea that even the tiniest of sea creatures are special -
before
they go wading into pools with a net!
Click on any of the beach arrows above to see some seashore crafts that we found really exciting this week!
And here is our own interpretation of a rock pool in a tutorial we hope you might also like to try :)
First you will need an empty detergent box- the clear type that tablets or capsules come in. Clean it and remove any labels before you begin. The main materials needed are blue paint, PVA, stronger UHU glue, tissue paper, stones, shells, sequins and any other embellishments you fancy.
Next you need to paint the sides and the top blue (on the outside) but make sure you leave one side clear for viewing. Mixing the paint with PVA glue will stop the paint flaking off the plastic when it dries.
Stick some scrunched yellow tissue, stones shells etc onto the blue base of the box to recreate the seabed/ bottom of your rock pool. The UHU glue will hold your stones and shells fast.
When you are happy with your creation, close the box. Taa Dah! 
We are going to make a crab tomorrow to put inside and Rebecca wants to add more seaweed and sequins to the back too. The finished rock pool will be posted on my Flickr this weekend. :)  
Blog Break: Off for a fortnight doing fun holiday things.... catch up with you all soon! xo