This is one of Rebecca's favourite picture books. When reading aloud, you can recreate the sounds in the story with realism thanks to the cleverness of the author. We decided to go on our own listening walk and packed together a special explorer's bag.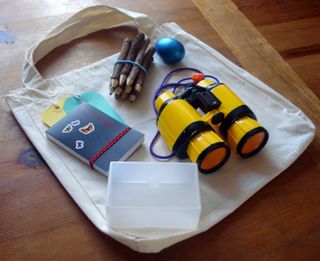 Twig colouring pencils
Mini journal
Binoculars  
Green and yellow tags - the two colours to find and tag 
A business card box for collecting
And lastly the magic listening egg for our special listening walk!     
  I got the idea for the listening egg from a recent visit my class had to

Greenmount.

When your child is holding the egg they have to close their eyes, be still, be quiet and try to remember what they can hear in their immediate environment. It really helps you to focus!

  
You can find similar ideas for field study bags and nature scavenger hunts at one of our most visited sites:
We had a super time and as a bonus we collected lots of pebbles that we are going to use as story stones. More of that to follow!