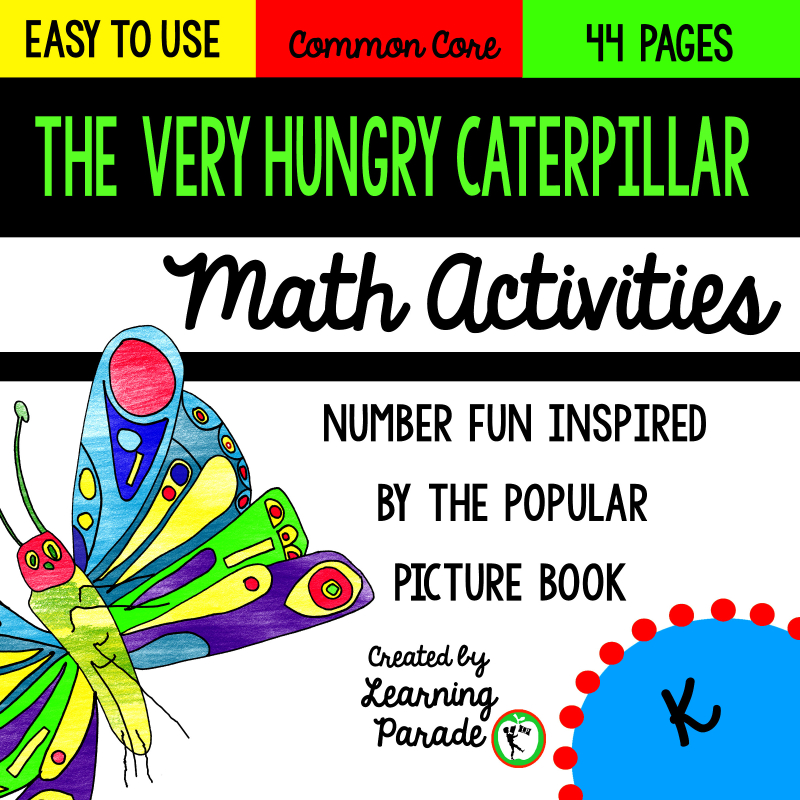 Enjoy some math fun after reading The Very Hungry Caterpillar with this easy to use packet of number activities, printables and math center resources! The activities are appropriate for children aged 4-6 years!

Help your students to develop their understanding of number and practise using basic operations.

Inside this packet you'll find:
-Order caterpillar's numbers (cut and paste activities) forwards within 10, backwards within 10; forwards within 20, backwards within 20
- Jigsaw type puzzles: numeral to amount 1-10,number word to amount 1-10
- Roll, Solve, Cover! (maths center game) numerals and amounts, adding two single digits within 12, adding 1 to a single digit, subtracting 1 from a single digit
- Making numbers (cut and paste activities) Adding two single digits to make a given number:3,4,5,6,7,8,9 and 10
-Solve and Sort (solve, write, then cut and paste activities) Addition within 10 (less than 5, 5 or more) Subtraction within 10 (less than 5, 5 or more) Addition within 20 (less than 10, 10 or more) Subtraction within 20 (less than 10, 10 or more)
-Roll and Solve (writing solutions)
adding/subtracting one, adding on two and three, adding to ten/subtraction from ten, blank addition/subtraction, addition doubles **Now includes a matching pairs game (amounts)**
Available for instant download! £3.00

Product feedback on Teachers Pay Teachers:
"These are great! As Spring is approaching, what a great round of math centers! Very differentiated as well, which is a bonus!" - Morgan W.
"This is a phenomenal unit. Thank you so much for such a well thought out and comprehensive approach to the subject, to include maths games and writing! SUPER!" - Gina B.
"Love this pack as much as the kids do!" - Francesca A.
"Excellent math activities!" - Andrea L.