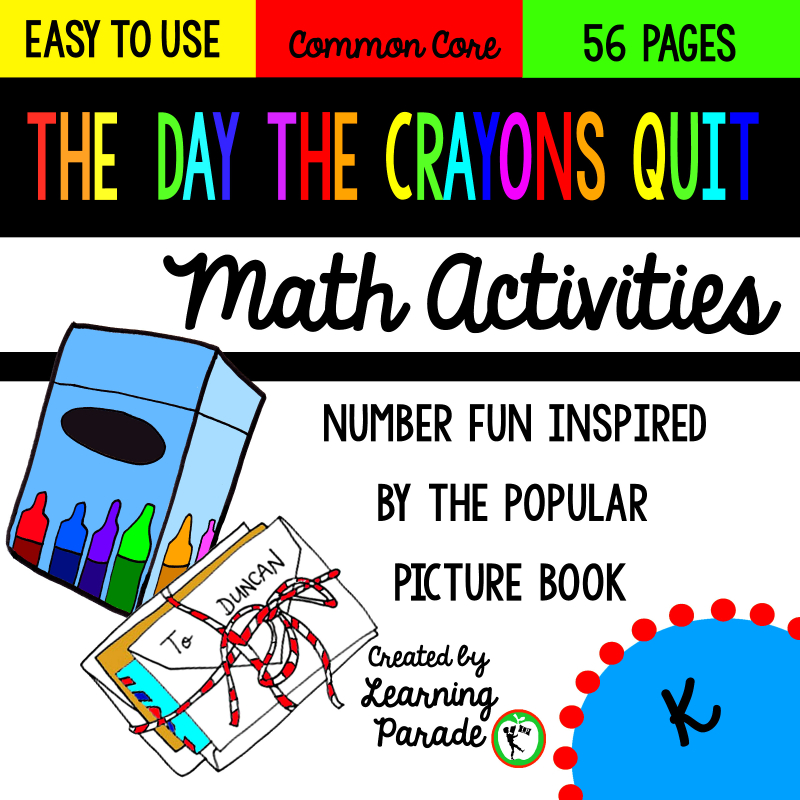 Enjoy some math fun after reading The Day The Crayons Quit with this easy to use packet of number activities, printables and math center resources! The activities are appropriate for children aged 4-6 years!

Help your students to develop their understanding of number and consolidate using basic operations.

Inside this packet you'll find:
- Ordering numbers (cut and paste activities)
-numbers within 10: before, after and between
- Matching number words to numerals
(cut and paste activities)
- Colour ten frames to match numerals 1-10
- Which crayon do you like best? Tallying and graphing activity
- Hidden picture 100 square
- Sorting Numbers (cut and paste activities)
-less than 5 / 5 or more; less than 10 / 10 or more; odd and even; basic + and – within 10
- Crayons Bingo Game: matching amounts, number words and numerals – look out for the quit cards!
- Jigsaw type activities
-match numeral to amount (0-20) designed to reinforce ten plus a single digit to make a teen number
-match number word to amount (0-20)
Available for instant download! £3.00

Product feedback on Teachers Pay Teachers:
"I love the math connections to one of my favorite books! Such an extensive variety of math activities! Thank you!" -Carolyn H.
"Such a gorgeous unit of work!" - Lynne S.
"Wonderful activities for our maths stations. Thank you!" - Angela Adams
"My kiddos loved it." - Karen L.