Letters and Sounds Phase Two Bumper Pack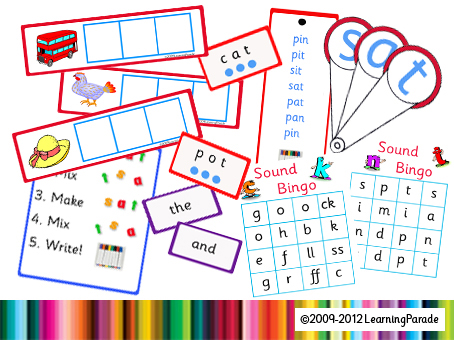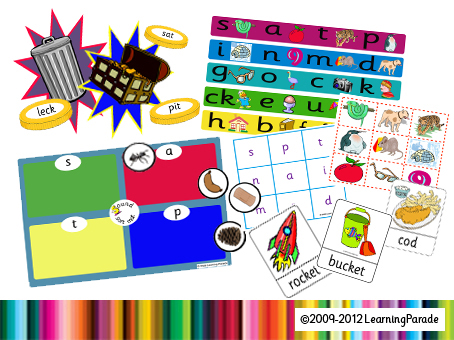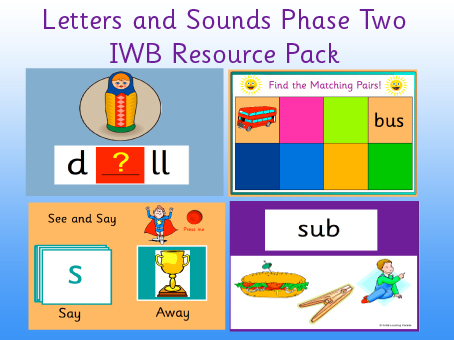 SMART Notebook Activities:
✔ Matching Pairs: Match the CVC words and pictures (two games)
✔ See and Say 'virtual flashcards': all sounds (sets 1-5) in progression

✔ Letter Match Ups: Match the lowercase letters with corresponding capitals (all sets)

✔ Missing Sounds: CVC pictures and labels with first, middle and last sounds missing

✔ Word Match Ups: Choose the picture that matches the CVC word

✔ Phoneme Manipulation: Insert the correct grapheme to complete new CVC words

PDF Activities and Games:
✔ Initial Sound Lotto: 2 game boards and cards to print and laminate
✔ Initial Sound Sorting: 5 game boards with 60 cards to print and laminate
✔ CVC Word Building Mats: 24 phoneme frames with CVC pictorial cues and boxes for magnetic letters (segmenting for spelling)
✔ Magnetic Letter Make and Mix cards: Super for literacy center work; 13 cards with a total of 104 CVC words to 'make and mix'
✔ High Frequency Flash Cards/ Word Snap: All 32 decodable and tricky words.
✔ Letter / sound recognition bingo: game one: letter sets 1 and 2; game two: letter sets 3, 4 and 5
✔ Buried Treasure Game: sort the proper and nonsense words into either the chest or bin
✔ Picture Word Match Ups: practice blending for reading, a selection of illustrated word puzzles, some two syllable words too.
PDF Visual Aids:
✔ Letter Fans: includes all 23 sounds arranged in letter progression (sets 1-5)

✔ Sound Button Flashcards: a selection of 20 CVC and VC cards
✔ 'Full Circle' teacher callouts: on useful cards that can be joined with a split ring
✔ Flashcards: includes all 23 sounds arranged in letter progression (sets 1-5 in 5 separate colours) with a corresponding visual prompt

✔ Wordmat: all 23 graphemes with visual prompts - arranged in colour coded sets

✔ Tricky Word Mat: a little extra deskplate to display those Phase 2 tricky HFWs
Available for instant download!
for only £8.50 (Around €10 or $13)