Our packs are designed in line with the DCSF Letters and Sounds Publication, widely used in schools across the U.K. The six phase programme helps children develop fluent word reading skills and have a good foundation in spelling and letter writing. If you are homeschooling, the programme can provide you with online guidance for systematic, high quality phonics work.
These Bumper Packs come complete with interactive games and resources (created with SMART Notebook 10 and Powerpoint), visual aids, display materials, simple activities and center resources (all PDF format). Please ensure that you have the appropriate software installed on your computer.
Letters and Sounds Phase One Bumper Pack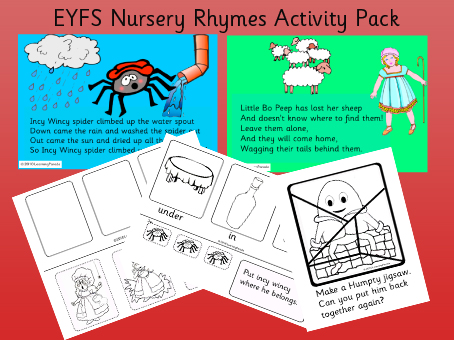 SMART Notebook Activities:
Aspects 1-3 General Sound Discrimination
✔ Mouse in the House: Help little mouse identify common household sounds (self checking)
✔ Animal Sounds: Sound effects with multiple choice answers (self checking)
✔ Hidden Musical Instruments: Identify and match the instruments to the sound clips (self checking)
✔ Sound Walk: An introduction to this activity - a virtual listening walk with various outdoor sounds

Aspect 4 Rhythm and Rhyme

✔ Rhyming Soup: A visual aid for singing this rhyme with music and 4 variations to inspire your own ingredients!

✔ Rhyming Pairs: Find the matching rhyming picture from a selection of 3 possible answers (self checking)

✔ Odd One Out: Find the picture that doesn't rhyme (self checking)

Powerpoints:

✔ 10 Popular Rhymes: Incy Wincy Spider, Little Bo Peep, Hickory Dickory Dock, Jack and Jill, Miss Polly had a Dolly, Humpty Dumpty, The Owl and the Pussy Cat, Twinkle Twinkle, Little Miss Muffett (all rhymes appear in Sassoon Infant Font)
Aspect 5 Alliteration
✔ Odd One Out: Spot the picture with a different initial sound (self checking)

✔ Tongue Twisters: A selection of 10 (age appropriate) tongue twisters to enjoy; this will appear in Sasoon Infant Font even if it isn't installed on your computer :)

Aspect 6 Voice Sounds
EXTRA FREE Powerpoints: (with music)
✔ The Wheels on the Bus Go Round and Round (Sassoon Infant Font embedded)

✔ Ten Fat Sausages Sizzling in the Pan (Sassoon Infant Font embedded)
SMART Notebook Activities:

Aspect 7 Oral Segmenting
✔ Phoneme Counting: Join the picture to the correct number using your whiteboard pens
✔ Initial Sound Recognition: Burst the balloons and find pictures with matching first sounds (Team Game)
PDF Activities and Games:
✔ Incy Wincy On the Move: Place the spider where he belongs (under, on, in) - cut and stick activity
✔ Humpty Dumpty Jigsaw: Put Humpty Dumpty back together again (print on white card, colour and cut)

✔ Hickory Dickory Dock: Fill in the hands and the mouse as the clock strikes one! (cut and stick)

✔ Little Bo Peep: Sequence her sheep (1-5 cut and stick)

✔ Little Miss Muffet: Sequence the rhyme with three pictures to colour (Recount cut and stick)

✔ Big Ears: colour, cut and stick onto headbands for your listening walks
✔ Noisy Shakers: a cut and stick worksheet to record the contents of children's noisy shakers
✔ Voice Sound Sort: shouting, speaking and whispering
PDF Visual Aids:
✔ A4 Nursery Rhyme Mini Posters: all the above rhymes for your display/ reading corner
✔ Nursery Rhyme Prompts: Visual prompts to put in a bag for each rhyme (circle time game)
✔ Secrets of Good Listening: 4 (free) mini posters to use as visual prompts while you model and reinforce good listening
✔ Percussion fans: involve everyone in identifying 'Which Instrument?' fans illustrate a triangle, rhythm sticks, maracas, castanets, drum, guiro, tambourine and glockenspiel
✔ Loud / quiet flashcards: use the lion and mouse for cues and sorting activities
✔ Story Sounds Prompt Cards: pictures to use for
playing instruments in different ways
✔ Noisy Neighbour Settings: 10 localities to consider -
noisy or quiet places? eg library, indoor playground,
cinema, art gallery
✔ Metal Mike: a simple A4 visual aid for the 'robot
voice' activity
✔ Voice Sounds Flash Cards: a set of 10 illustrated
voice sounds eg wheeeee - children descending slide
Available for instant download!
for only £8.50 (Around €10 or $13)