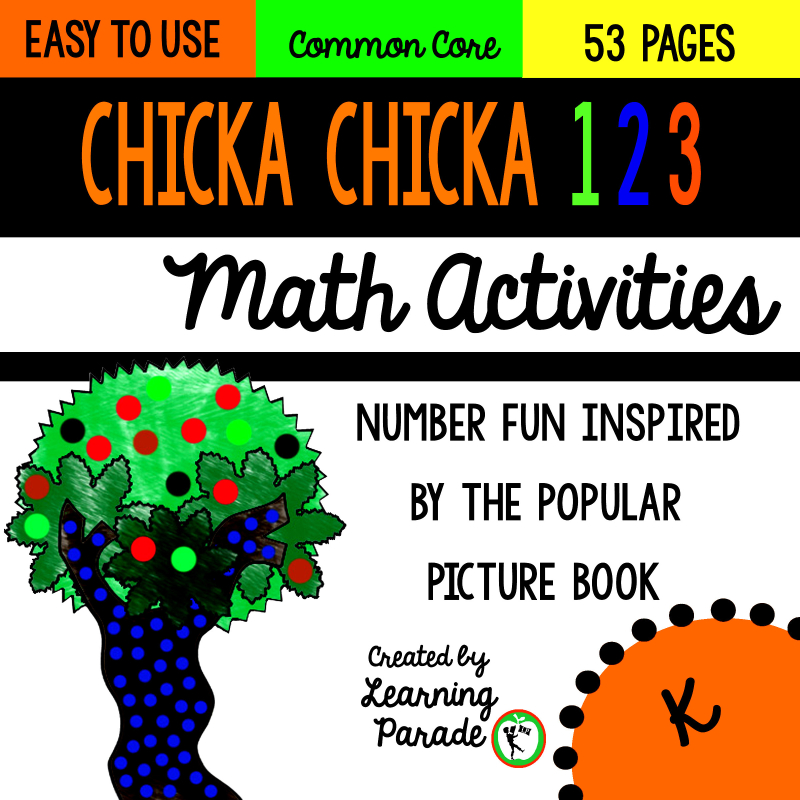 Enjoy some math fun after reading Chicka Chicka 1 2 3 with this easy to use packet of number activities, printables and math center resources! The activities are appropriate for children aged 4-6 years.

Help your students to develop their understanding of number and consolidate using basic operations.

Inside this packet you'll find:
- Ordering numbers (cut and paste activities): numbers within 10, counting in 10s to 100
- Matching number words to numerals and amounts (cut and paste activities)
- Colour ten frames to match numerals 1-10
- Counting apples on the tree (cut and paste activities)
- Decomposing numbers up to 10: Mini books to make for each of the numbers: 3,4,5,6,7,8,9 and 10. Draw more apples on each tree and write the number to make a given amount
- Sorting Numbers (cut and paste activities): less than 5 / 5 or more; less than 10 / 10 or more; odd and even
- Write the solution: Take away 1 within 10
- Jigsaw type activities: match numeral to amount (0-20) designed to reinforce ten plus a single digit to make a teen number, match number word to amount (0-20)
Available for instant download! £3.00

Product feedback on Teachers Pay Teachers:
"Exactly what I needed." - Teresa O.
"These were great and went along with the book wonderfully! It was especially great for my preschoolers who are just learning the beginnings of math." - Anon
"This is great! Thank you!" - Marion's Creative Teaching Resources
"Love this for back to school!" - April Costello